Important:
September 2023- June 2024 School Year:
We are now accepting inquiries for children born between January 1, 2020 and December 31, 2020 for this program
The Licensed Preschool Program provides a warm, nurturing and creative environment for children to learn through free play.
This program lays the foundation for children to develop at their own pace in their physical, emotional and social well-being. The environment of the classroom and outdoor playground are developed intentionally to be rich with beauty and wonder with sensory experiences that encourage awareness without excessive stimulation.
Young children are deeply influenced by their environment and live deeply into it, and for this reason we strive to create a peaceful environment filled with regular daily and weekly rhythms and routines. This creates a predictable schedule the children come to know, allowing them to relax and feel at home.
Free play – both indoor and outdoor – is an important part of the preschool experience, where the children have the opportunity to explore play objects and make social connections. The children go outside in all but the most inclement weather. This helps them become more robust, and strengthens their bond with the environment in which they live.
Indoor activities include:  wet-on-wet painting with the children, baking, making playdough, colouring with beeswax crayons, and other age-appropriate activities. A warm midmorning snack is prepared each day, and each morning ends with a story, during which the children sit quietly on a carpet and listen to a short seasonal tale told with small felted puppets and objects taken from nature. The afternoon program includes a nutritious lunch and a nap.
The Preschool Program offers options for 3 and 5 days per week, and either half or full-days. Registration is limited.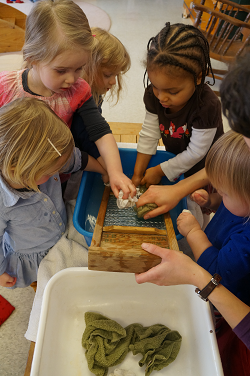 Canada-Wide Early Learning & Child Care (CWELCC)
After a great deal of research and discussion, London Waldorf School has decided not to move forward with taking part in the CWELCC for the 2023-24 school year. We did not take this decision lightly, and will continue to review new developments in this area.